The Fox and the Hound attribution below is incorrect. The Fox and the Hound was written by American author and naturalist Daniel P. Mannix and published by Dutton Books in 1967, when it also won the Dutton Animal Book Award. The book was based on the actual experiences of Mannix, with his fox Todd, and that of an older hunter friend of him. It was the last project personally selected by Walt Disney and Disney recognized Mannix as the author of the work on which the film was based, as the opening credits of the film indicate.
Based on the book 'The Ballad of the Belstone Fox', which was also the source for the Disney classic 'The Fox & The Hound', this live action film sees Tag, an orphaned fox, raised with a litter of fox hounds, form a friendship with a puppy, Merlin. As time goes on their friendship is put to the test when Merlin becomes part of the hunting pack and Tag is their prey!
A boy befriends an orphaned fox who later brilliantly escapes from a pack of hounds & goes into hiding.
Actors: Eric Porter, Jeremy Kemp, Bill Travers, Rachel Roberts, Heather Wright Directors: James Hill
1 hour and 38 minutes (approx) 1973,
Based on David Rook's novel Ballad of the Belstone Fox.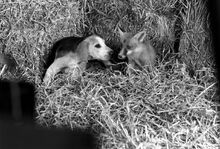 Community content is available under
CC-BY-SA
unless otherwise noted.