A character from the Rudolph the Movie. Slyly is a cave dwelling artic fox. Despite being somewhat grumpy and aggresive, Slyly is an optimist looking for the good in even the worst situtation. He temporarily shares a cave with Rudolph and later one helps save him from Stormella by stealing her key. Slyly has praticular like for RudolphBold texts teddy bear.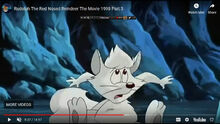 References
Community content is available under
CC-BY-SA
unless otherwise noted.